Dortmund Squad Numbers: #11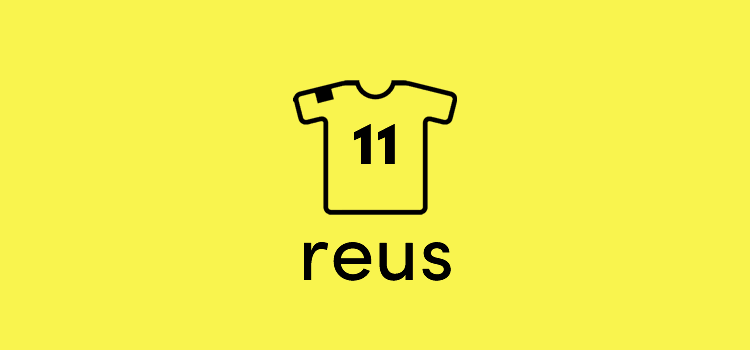 Welcome back to the newest edition of BVB Squad numbers. In this edition, we'll be looking at a number which is associated with any of the attacking positions, be it a striker, winger or an attacking midfielder, the #11 jersey. The #11 jersey has been worn by players who have been played in a variety of attacking positions as well midfielders in various roles. These are few of the most talented players who played in the #11 jersey for Die Schwarzgelben.
#1 Frank Mill
Mill, a clinical striker for all his clubs and also popular for one of the cheekiest goals and one of the worst misses ever in the Bundesliga, spent 8 seasons at the Westfalenstadion. Mill started off well at Dortmund and even became captain within a couple of seasons of his signing but eventually started fading away and became a backup at the club in his later years before moving on to Fortuna Dusseldorf. Mill made 234 appearances for the club scoring 66 goals but never got his hands on any silverware in his time at Dortmund, and on the international stage he earned a measly 17 caps but was part of the Germany squad that won the FIFA World Cup in 1990 and a bronze medal in the Summer Olympics of 1988.
#2 Karl-Heinz Riedle
Riedle, who wrote himself into Borussia Dortmund folklore when he scored twice in the historic 1997 UEFA Champions League Final against Juventus, had a solid if not remarkable spell in his four years with Die Schwarzgelben. Adorned the nickname "Air", he was known for his aerial ability and was a well-rounded striker who had a very prolific spell at Werder Bremen in the late 1980's and even though he wasn't scoring on all cylinders for BVB, he was a regular starter under Hitzfeld, partnering Stephane Chapuisat. In his spell with Dortmund, he won 2 Bundesliga titles and the aforementioned UEFA Champions League once and also earned 42 caps for the national team, winning the FIFA World Cup once, earning a bronze in the 1988 Olympics and finished runner-up in the UEFA Euro Championship in 1992.
#3 Marco Reus
Reus, a Dortmund born and bred player who spent 10 years as a youth player before moving to proving himself elsewhere, returned to his boyhood club in 2012 to huge fanfare. One of the most talented players to ever don the jersey and often counted among the best in his position in the world, his career has been hugely affected by injuries since his move back to Dortmund. A fan favourite and current vice-captain of the club, he has made 189 appearances for the club across all competitions scoring 89 goals and assisted 61 times, but is out with a rupture in his cruciate ligament and his comeback is a long way off. He is one of the 'what if' football players, as injuries have curtailed his obvious talent and whenever fit, he always proves why he was so highly rated as a youngster.
The current wearer of the jersey Marco Reus is into his fifth season with the club after re-joining, but his rotten luck has seen him sidelined due to injury yet again and we never know how his future will turn out. His presence in the dressing room is very important as well, so his presence is always missed and makes the team much weaker. Every fan of the Yellow-Blacks is waiting for him to return to the pitch and continue being the home-grown talisman for the club.